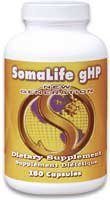 A unique, encapsulated, vegetarian product… designed with you in mind to assist in supporting your cellular function. The carefully researched and blended combination of the highest quality specific amino acids is rapidly absorbed in order to maximize the opportunity for enhancing natural cellular rejuvenation.

SomaLife gHP™ is made in Canada from quality assured, finest Canadian grown soy and is the subject of a World Wide Patent. SomaLife gHP is the ultimate nutritional supplement of the highest purity; a 'must' for every adult over thirty years of age.

SomaLife gHP is a Dietary Supplement and has 180 capsules per bottle, (one months supply)

Serving Size 6 Capsules
Amount per 6 Capsules 5196 mg

Ingredients
L-Lysine
L-Arginine
L-Ornithine
L-Glutamine
Glycine
Leucine
Iso-Lucine
Valine
MCC, Magnesium Stearate: Used as a natural lubricant in the encapsulating process.

Suggested Use (Adults Only):
Females: 3 Capsules in the morning, 3 Capsules in the evening
Males: 6 Capsules before retiring
For Optimal results, best taken on an empty stomach, (whenever possible) or as directed by a health professional.

Drinking a minimum of eight glasses of water daily is recommended.

Warning: Keep out of reach of children, not to be taken when pregnant or nursing, when on a protein restricted diet, or if receiving treatment for cancer.

The product label states: Important: store between 2 and 30 degrees C. This is a manufacturers way of saying it is not necessary to store this product in the refrigerator. There are no indications that if left in extreme temperature conditions that the product will be compromised.
Agnnes Kraweck PhD and Colin Maxwell BSc, BA
Triune-Being Research Organization Ltd
SomaLife Independent Distributor # CAN8070
Phone: 780-421-4284 Toll Free: 1-866-422-4265
Email: triune@triune-being.com
Website: www.asomalife.com